Testimonies of Faithfulness
From The Master's Seminary Alumni
The following stories are testimonies of the Lord's faithfulness to provide for men who left careers and comforts to be trained for gospel ministry. Now graduates of TMS, these men faithfully preach the Word of God in local churches around the world.
Alumni Testimonies
Andrew Curry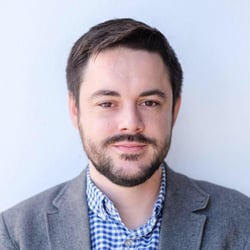 Master of Divinity — 2013
Master of Theology — 2015
Doctor of Ministry — 2017
I grew up in a family in which both my mom and dad had their trust in Christ. They committed their time to serving God and planted an Irish Baptist church near the northern coast of Ireland. By God's grace, I was brought up in the church plant environment up and heard the gospel through my parents and responded with faith while still a child.
I had many opportunities to serve in the church as I got older and began to show fruit. I served in short term teams supporting other small churches around Ireland during the summers. It was during these summers I first had the opportunity to preach. I preached for the first time at 15, and then more frequently as I got older.
Concerned about rushing into ministry, I decided to train as an elementary teacher. At the end of my teaching education, I worked as a teacher, served in the local church, and preached on weekends. Eventually, the time came for me to choose a vocation because there wasn't enough time for both. My church elders, who affirmed gift and calling, encouraged me to pursue theological education.
I had been so helped and developed by the local church that I wanted to be able to maintain the same accountability and benefit during my seminary training. This emphasis on the local church brought me to The Master's Seminary and Grace Community Church. During my time at TMS, I meet my wife Sarah. We now have three children: Isla, Iain, and Izzy.
I am currently serving as the senior pastor in a church in Lisburn, Northern Ireland. We have been here three and a half years. When we first came, the church had been without a pastor for eight years, had no elders, and had about one hundred people attending on a Sunday morning. There were tension and wounds in the church from a recent split. Thankfully, God has been gracious to us. We now have three elders appointed, our attendance has doubled, and we have seen local people converted, baptized, and join the membership.
Being in Europe has also offered opportunities for a conference speaking ministry. We have been able to reach Romania, Portugal, the Republic of Ireland, England, and the Faroe Islands where God's people need to be encouraged to love and remain committed to the Word of God. I also have the privilege of traveling back to California three times a year to help with the Doctor of Ministry program at The Master's Seminary, where I serve as Associate Director.
All the ministry I currently do has been afforded to me because of the training I received at TMS. During my studies, I was taught by men who had a wealth of ministry experience, and I was given opportunities in the church to practice preaching and grow in a supportive environment. Getting to learn especially from seasoned pastors like John MacArthur, Alec Montoya, and Steve Lawson, who knew the highs and difficulties of ministry experientially was invaluable. Their encouragement and endorsement have sustained me in the harder moments of my current ministry.
I come from a family that had little money because of their ministry. Without the financial support I received, I would never have been able to study at TMS. Not only did that generosity make my studies possible but having the knowledge that God's people were supporting me financially throughout my academics taught me to be dependent on the body of Christ, and to trust that God would continue to supply my needs through the Christian community.
Justin Harris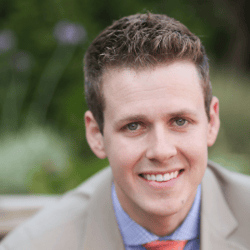 Master of Divinity — 2014
Doctor of Ministry — In Progress
I'm originally from Greenville, North Carolina. I heard and believed the gospel through a teacher in my elementary school but didn't grow up in a strong Christian church. As a young adult, I became an associate pastor in the same church, but I did so because I thought it was the only way I could serve the Lord. I didn't have any formal training and I hadn't even heard of expositional preaching. I attended a Bible college, where I met my wife, Tonya, and I learned about pastoring and preaching.
At first, I was opposed to going to a seminary because I had been told that "seminary is a cemetery" by my church. But I could tell my sermons weren't feeding the congregation. So, I enrolled in seminary anyway.
The seminary taught me how to engage a crowd with emotional responses and to take care of psychological needs—not to preach the Word. But God grew my desire to be a biblically qualified pastor, and my ministry goals began to change. Instead of wanting emotional responses, I hoped for hearts of worship, focused on God.
I first heard of The Master's Seminary in 2012 at a conference in Kentucky. It was there that I heard my first expository sermon. The speaker was John MacArthur. I was stunned by how different it was from what I had been doing—this preaching made an impact on my soul. I wanted to be able to preach like that. After the sermon, I went to the TMS enrollment table. I wanted to study at TMS because they got the Bible right. And if you get the Bible right, you get everything right.
But Los Angeles was on the other side of the country for me. The move alone would be costly—not to mention the cost of living. I talked to a fellow pastor about the financial difficulty, and he committed on the spot to help with my transition to The Master's Seminary. He made some calls and his church supported my family in the first stages of our move. So we moved across the country with two kids and just $2,000 in the bank.
After we had settled into California for a year, my wife lost her job. My income alone wasn't enough to cover all our expenses. I thought I was going to have to quit seminary. My parents were even preparing for us to come home. I went and talked to our dean, Dr. Busenitz, to tell him I was leaving. But Dr. Busenitz presented me with a different solution. From that conversation, a donor's gift covered the rest of my tuition and some cost of living. God provided because I just didn't have the funds to get it done.
In May of 2014, I graduated from TMS, and I am now the head pastor at Faith Bible Church in Naples, FL. When I began candidating for a pastorate, two different opportunities with other churches fell through. By my third try, a mutual connection had put me in touch with Faith Bible. They were focused on the gospel and meaningful membership, but the church had no pastor and was looking for someone to lead them. They brought me on as their pastor, and I now have the opportunity to preach every Sunday, putting my training to use. By God's grace, our church has now tripled in attendance, with frequent visitors who walk or drive by.
It took faith for me to get out to California—truly a step of faith. I would not have made it through without the donors to the seminary. It was untold, unnamed people who kept the hope of finishing seminary alive for me. You can only go so far, and then you need some practical relief. I'm grateful to the donor who made it possible for me to stay at TMS.
Mark Chin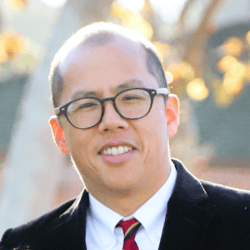 Master of Divinity — 2010
Master of Theology — 2012
For what will it profit a man if he gains the whole world and forfeits his soul? (Matt. 16:26)
These words of Christ were given to me as a child, growing up in Toronto, Canada. But it was as a family physician working in Los Angeles and serving at Grace Community Church (GCC) that the Lord rattled my heart with these words. While serving on a GCC short-term medical missions trip in South Africa and caring for Africans dying of HIV, these words brought a much needed eternal perspective to my life and labor. Medicine, at its best, might temporarily alleviate or delay the inevitable, but only the Good News of Jesus Christ could give the salvation and life that dying sinners so desperately need.
This was the God-given conviction that God used to help me walk away from my medical practice and enroll full-time at The Master's Seminary while in my mid-30's. The intent was simply to be as best equipped with the Word of God as possible so that I might be a useful vessel in local church ministry. God used the time I was at GCC and TMS, in His mercy and grace, to break me and remake me with His Word, to necessarily renew my mind, and to necessarily show me how much I needed Christ and His Word. In His mercy, grace, and time, God saw fit to give me a wife, a family, and a call to full-time ministry – a call that would require me to leave what little I had left of earthly value for the greatest joy and treasure of all – the joy of following and serving Christ, and the surpassing worth of knowing Christ Jesus my Lord.
In 2014, two years after graduating from TMS, the Lord called me, with my wife and two very little boys, to the senior pastor position at Lighthouse Bible Church San Jose. It was a very young church in every sense of the word "young." It had been planted four and a half years earlier by a TMS grad, but had been without a pastor for a year and a half. The average age was twenty-seven, with a third of the church being collegians from San Jose State University, a third of the church being recent college graduates, and a third of the church being young families with young children. From the beginning, God made it very clear that there was much work to do for Christ in LBCSJ and in Silicon Valley.
Much of Silicon Valley seems to be indifferent to the true gospel, to the need for faith in Christ, and to the expository preaching of God's Word. The idols of the community are the respectable idols of the American Dream that replace the glory of Christ with the fleeting glories of education, career, and relationships. The battle for the gospel is, as it always has been, a brutal battle with the idols of our culture and our hearts. The overwhelming task the Lord has given us is to secure every aspect of church ministry with Christ and His Word – beginning with the pulpit, but continuing with the equipping of the saints for every ministry, setting apart Christ as holy in all things. The present challenge is to help equip faithful lay leaders with the Word of God so that they, in turn, might pour into the hearts and lives of the people of San Jose.
I will be forever indebted to the Lord for TMS and its investment in my life. The obvious gifting TMS provided were the life skills and tools with which to rightly divide, enjoy, and keep the Word of the Lord. But beyond these skills and tools, both GCC and TMS provided me with shepherding by godly and wise men on the pastoral staff and faculty. These were men who were above reproach, whose lives richly yielded the fruit of faith, whose lives had frequently been tested – men who had suffered for the name of Christ. In short, both GCC and TMS provided fellowship and shepherding from men whose lives and faith was worthy of imitation. Their ongoing support, help, and prayers have been a gracious and merciful gift from God in the face of the expected battles for the gospel in local church ministry.
Many may assume that a physician will need little financial support in seminary or ministry and certainly, I arrived at seminary in a better financial situation than many. But upon leaving my medical practice and entering seminary, the Lord saw fit to reverse much of my financial situation. Some of this was tied to the cost of leaving my medical practice. The Lord used this to make me dependent on Him, rather than on the security of a medical career or income. Upon arriving at TMS, I received a scholarship, which was not only a financial blessing, it was a needed encouragement and reminder of God's faithful provision for each step of faith and ministry. Those who give financially to help seminarians give far more than just money or tuition or living expenses – they give encouragement, exhortation to keep trusting God, and the much-needed reminder of Christ's love and care for His disciples each step of the way.
Fernando Jaimes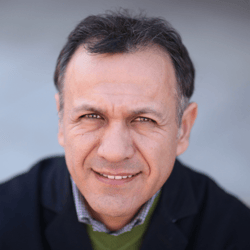 Master of Divinity — 2011
Master of Theology — 2016
Doctor of Ministry — 2019
I grew up in Colombia in a Catholic home, but we only attended mass on special occasions. I also went to a catholic school, but I never came to grips with the reality of the gospel. Even though I was taught morality, humility, and the consequences of sin, I remained prideful. I was especially proud of my family's heritage. I came from "old wealth," and I was proud of the higher education and powerful connections my family and I had. I thought we were above the rest. I thought I had it all.
However, God had a different plan for me and my family. I went on a business trip to Canada in 1996 and fell in love with the country. On top of that, Colombia was having a difficult time with guerrilla violence. Within a year I had a "landed immigrant visa." We were very excited to go to Canada.
A Canadian company in Montreal offered me a sales position specifically to sell in Latin America. It was a perfect job; I didn't have to speak much English, and I thought that I had been hired because of my own accomplishments. In 1998 my wife and I sold everything we had in Columbia and moved to Canada with our two young boys. When we got there everything fell apart: The day after we arrived, I went to work only to find I had no place in the new company. They had made last-minute changes and I was not included. I had no job and a family to feed in a brand-new place. At the time I had very poor English and spoke no French.
For months I searched for a job. Nobody responded to my job applications; my education was not acceptable, my experience not adequate, and I was coming from a country that had a terrible reputation. I also struggled with the English language. Finally, a factory hired me to manufacture computer chips. There, working 12-hour shifts, I met a dear brother who shared the gospel with me. And God, in His sovereignty, took all material things from me, but he gave me all spiritual things in Christ Jesus.
While I worked at the factory, God worked in my heart. I started to see things differently; my values changed, and my wife and I began serving in a church. I listened to John MacArthur's sermons on the radio for several years until I felt that I could not continue serving the flock without preparing myself. I started saving to come to The Master's Seminary. God, in His sovereignty, provided a scholarship and jobs at the bookstore and at the seminary cleaning the offices so that I could come to TMS.
My time at TMS improved my prayer life and the education prepared me academically to be a faithful preacher. I needed a strong foundation to be able to teach. Although I was a part of a church, I did not know much of Scripture before coming to TMS. Many professors encouraged me; it is hard to point to one. Dr. Montoya shaped me in pastoral ministry in a way that today I still recall today. And Dr. Lawson helped me improve my preaching.
Our church is growing, and we give thanks to the Lord for bringing new people every week to our congregation. We have increased to more than 120 regular attendees, and we recently had a membership class with over 30 people. We meet at a hotel right now but at this very week, we are praying that we can move to a bigger place.
I am also part of Instituto de Expositores (IDEX) in Colombia. We are training pastors and leaders in Bogota and Cali, two of the major cities in Colombia. We are reaching out to the students and their churches to help them see the Word of God as the ultimate authority. We are amazed that we just finished our second year of training!
I thank God for the financial support that kept me at The Master's Seminary.
Jordan Standridge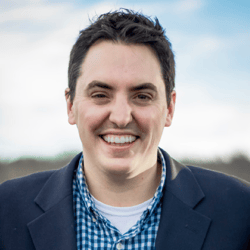 Master of Divinity — 2014
Though I am thankful to the Lord for many things, His absolute Sovereignty has brought me the most comfort. I grew up in Rome, Italy as a missionary kid. My grandparents are originally from Italy and my parents returned to Italy as missionaries after my father finished seminary in the states. I was born two months later. I grew up hearing the gospel and believed it at a young age, but I was confused by the unhealthy marriage my parents had. By the time they reached their breaking point and we moved back to America, I vowed never to be a missionary, especially in Italy.
Throughout high school, I became more and more depressed, and it almost overwhelmed me by my senior year. I turned down sports scholarship offers and struggled to get by. But the Lord providentially led me to back to Italy. There, there was an opportunity to attend a Bible school, founded by my uncle, with a few other twenty-somethings where we would read the entire Bible in ten weeks.
In God's sovereignty, the week before my new school started, John MacArthur visited Italy and preached at a conference. I attended as a helper, yet I needed the most help. God used John MacArthur's preaching to introduce God to me in a whole new way. MacArthur's emphasis on God's sovereignty completely changed the way I thought about Him.
Then I started reading my Bible for school. We would read during the weekdays and visit Italian churches on the weekends to evangelize. I read how God is totally sovereign over human history as much as He is over my life. My understanding deepened so much that I was thanking God for hardships in my life because they revealed the truth of the Lord. And as I shared the gospel with people on the street, my heart would break for their lost souls more and more after each encounter. Yet my heart grew in love for the gospel each and every time.
Still to this day, when I share the gospel, I have the same feeling of heartbreak over the condition of souls and the exhilarating joy of knowing and believing the gospel. Over those ten weeks in Italy, my goals in life changed. I realized that being a Christian was a life commitment. I couldn't see myself doing anything other than preaching the gospel. And then, despite my previous vow, I decided to be a missionary in Italy.
But I needed lots of training! I had heard Pastor MacArthur talk about The Master's College and The Master's Seminary. So I earned enough money for my first year, packed my bags, and moved to California. The Lord in His kindness allowed me to meet the most beautiful and wonderful girl, Jennifer, who became my wife three years later. We have four children: Davide, Matteo, Nico, and Gabriella.
After graduating from The Master's College, I attended The Master's Seminary. There the Lord deepened my love for the Bible, theology, and the church. I attended Grace Community Church and got to sit under the faithful teaching of John MacArthur and others. After graduation, I had plans of heading to Italy, but Jesse Johnson, a TMS graduate and great man in my life, asked if I'd consider moving out to Springfield, VA to serve as the college pastor at Immanuel Bible Church. I applied knowing I could use more ministry experience. I've had the pleasure of serving here three years as the college pastor. Recently I was accepted as a missionary with Grace Ministries International, the missions agency at Grace Church, and am in the process of raising support and moving to Italy as a missionary.
I am so grateful for God's providence in allowing me to grow up in Italy, ordaining my family situation to expose my need to depend on Him and to bring me to the point where I was hungry to learn about my wonderful sovereign God. I'm so thankful to Him for allowing me to meet John MacArthur, for using him in my life to help me think properly about God and His Word, and then for moving me to Los Angeles so I could train at the best seminary on earth.
Finally, I am so thankful for those who gave to the school so that I could attend the college and seminary. Working full-time, doing ministry, and attending seminary were not easy. Without the gifts I received, I would have either have taken more student loans or perhaps taken longer to go through seminary. I simply could not have made enough money to provide for my family and paid for school. God used these gifts to allow me to better provide for my family and to be able to concentrate on my studies, as well as be discipled by faithful members of Grace Community Church.
Michael Tsvirinko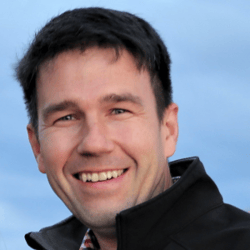 Master of Divinity — 2013
Shortly after graduating from college, I pursued my pilot's license but also had a desire to serve among God's people. When God gave me an opportunity to teach the Bible to high school students, doors opened for me in church ministry leadership as well as further training for gospel ministry. I went on to study at The Master's Seminary and graduate with a Master of Divinity. My time at TMS gave me a fundamental understanding of and trust in God's Word. It also equipped me to be an expositional preacher.
My time in seminary had its financial challenges. I was recently married, with our first daughter on the way, when we moved to Los Angeles to attend TMS. Working part-time, supporting a family, and paying for seminary kept us trusting the Lord to provide the remaining balance of our budget every month. God always provided, especially when that provision came in a scholarship towards my tuition.
After seminary, I wanted to be a faithful steward of what God provided me in gifts, experiences, and training. I considered various needs and opportunities, which included my family background, language, and culture. And God provided a match! My family and I have moved to Russia to serve churches by reaching remote, unreached villages through aviation.
The area of Far East Russia is 2/3 the size of the United States. This vast territory is spotted with several larger cities and is sprinkled with hundreds of villages not accessible by road. There has been some effort to reach some of the villages, but the lack of roads has made this effort almost impossible. As a result, many of the villages still have not heard the Good News of our Lord Jesus. But God has been preparing people to take the gospel to these remote villages, including us.
We are also part of a local church in Khabarovsk and assist other churches in the city. I have opportunities to preach often at some of the churches, allowing me to build discipling relationships with local pastors and other church leaders. Much work has gone into our ministry, and much more needs to be done.
God's sovereignty is evident in our lives. He has providentially allowed my wife and me to be born into Russian speaking families, understanding both the language and culture. God has given me an interest in aviation, which led to a career in aircraft maintenance and training as a pilot. And I'm very grateful for the generosity of the donors who made it possible for me to get a seminary education at TMS. We are now ready to come alongside the churches of Far East Russia and assist with reaching remote villages by aircraft – flying the gospel to the unreached.
Robert Wauhop
By God's grace, I grew up in a Bible church hearing the gospel clearly preached. However, it was not until high school that I believe God saved me. It was during this time that I began to grow spiritually as leaders in the church poured into me and gave me opportunities to serve at the church. I remember, early on, reading sermons of John MacArthur from Grace to You and being greatly helped by him. At the end of high school, I had a desire for ministry but didn't know in what context God wanted me to serve.
I attended Liberty University and was a biblical study major. It was during this time in college that I was given a copy of the book Pastoral Ministry by the faculty of TMS. This book corrected some wrong views I had about ministry, and left me saying, "That is exactly what I want to pursue." God then directed me to TMS where I completed my M.Div. and Th.M. before coming to our current place of ministry, Faith Bible Church, with my wife, Ashley, and our four children: Maggie (7), Charlie (5), Lucy (3) and Henry (4 months).
For the last 6 years, I have been serving at Faith Bible Church in Sharpsburg, Georgia as the youth pastor as well as an elder. The church has around 400 in regular attendance, and our youth ministry has about 70 students. Our youth meet regularly on Sunday mornings during our Sunday school hour, as well as Wednesday nights for fellowship, singing, and preaching. Over the last six years, I have had the privilege of preaching through many books and topics to our youth.
TMS equipped me so well for a lifetime of ministry. I certainly did not learn everything there is to learn, but rather was given the tools to discern the God-intended meaning of any text and how to apply it to the lives of those God has given me to shepherd. I often say that I paid for one education, but I got two. During my time at TMS, I not only received the best seminary education but also received a practical education by serving at Grace Community Church during my time there.
One of the classes that stood out to me in seminary was an elective taught by Jack Hughes called Effective Sermon Delivery. This class helped me so much to grow as a preacher. I have gone back to the principles in this class time and again as I think about preaching. One of the highlights about TMS is the unity among the professors on doctrine and philosophy of ministry. I never felt like I was hearing one theology in one class and a different theology from a different class. Each professor was unique in their personality and presentation, but they were all unified in representing the same theology. In addition, the sign on the second floor of the seminary building with 2 Timothy 4:2 on it always had a profound impact upon me.
My wife and I had been married for all of one month when I started seminary. My wife worked at Grace to You while I worked in the TMS admissions department. When we had our first child and my wife stopped working, I received another job. The financial support we received made it possible for us to make it through seminary while living in Los Angeles, and we see God's hand of provision at work in our lives.
Steve Swartz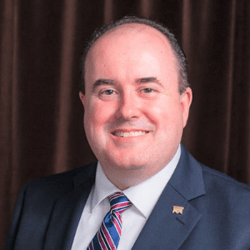 Master of Divinity — 2013
Doctor of Ministry — 2018
I was saved by grace as a child, met my wife, Sylvia, in my teens, and entered gospel ministry when I was 30 years old. Through the help of a sending church that discipled me, we were involved in a church plant in Early, Texas which we devoted ourselves to for 11 years.
I worked a full-time job while ministering to the church, but eventually, it became very clear that I needed more ministry training. So, by God's leading and with the support of an amazing wife and family, we took everything we could fit into a truck to California so I could attend The Master's Seminary.
During my final year in seminary, I went through the Grace Advance Academy: Dr. MacArthur's intensive training for church-planting and church-revitalizing pastors. After completion, I had the opportunity to pastor a small church in Bakersfield, California. They had just lost their pastor and about half their membership. I was tasked with doing my best to bring spiritual health and encouragement to the remaining believers. By God's grace, just over 6 years later, the church has grown to four times the members, almost three times the annual budget, and we have seen dozens of people come to faith in Christ. We just began the church's first-ever capital campaign for a new facility and the response has been overwhelming.
The Master's Seminary was absolutely vital to my understanding of the Bible and how to do local church ministry. I completed my Master of Divinity as well as Doctor of Ministry. The D.Min. program was phenomenal help. Our church loves Christ and loves the gospel because I am simply pouring into them what was poured into me at TMS. Having been a pastor both before and after seminary, I can see an astounding difference in my ministry now.
The professor who impacted me most was Dr. Keith Essex. Though he is recently retired, his ability to connect the dots of the whole story of Scripture and to interpret a passage based on how it fits into the entire scope of redemptive history is amazing. I took every class he taught. In the years since we have been on two mission trips together and he has preached in my pulpit numerous times. He was my advisor for my doctoral dissertation, as well. Dr. Michael Grisanti also had a profound impact on my time at TMS, and on my ability to exegete a text of Scripture. Even more importantly, the teaching he did in my Deuteronomy class concerning biblical covenants was key in helping me unlock "how the Bible works" for my own congregation.
I came to seminary with a large family and the usual expenses. I absolutely would not have made it through without the scholarship I am blessed to have received. And from a human standpoint, because others invested in my training, I took that training to the pulpit of Grace Bible Church of Bakersfield where unbelievers have heard the gospel, repented, been baptized, and made members of the church. One man who came to Christ shortly after my arrival has already gone through all our discipleship programs and is training for future lay-leadership. I am so thankful for the generosity of those who paid for my training. It has borne fruit for eternity already!
Premond Choy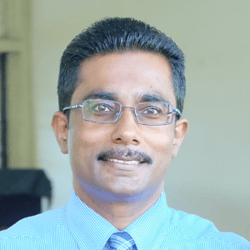 Master of Divinity — 2011
Master of Theology — 2018
I was born in the small village of Buabua, Fiji where Hinduism strongly influenced everyone. In our village, we all met regularly at a local temple. We had no knowledge of Jesus Christ and His saving work. Our village elders taught that the "white men" had Christianity and that it had nothing for us.
But God worked to bring the life-changing effect of the glorious gospel into my village and into my heart. An Indian couple that knew Jesus bought the land next to our village to start a Bible college and to plant a church. When I was 10 years old, these college students visited my village and eventually brought me to Sunday School. At age 17, God saved me and delivered me from the bondage of paganism. In His providence, He protected me from hostility and renunciation in the village. Today, no temple stands in our village and twenty families attend the Lovu Bible Church.
As this adventure of my new faith began, I had a sweeter journey every day with my Lord and Savior. This sweet relationship contrasted radically with my idol worship. Soon, the Lord brought me to join what had now become the Fiji Bible College as a member of the staff. I met my beautiful and loyal bride there and we married in 1997. We now have been blessed with two daughters: Charlene [age 19] and Abigail [age 8].
To continue our vibrant ministry, God permitted us to migrate to the United States in 2007 for further training that would enhance my abilities and expand my responsibilities at the college. We stepped out in faith; we did not know how God would provide after we sold everything and left Fiji. God guided us to the Bible Church of Buena Park, now our sending church. The Bible exposition and godly counsel by Pastor Scott Bashoor plus prayer support by the church have strengthened and encouraged our walk with the Lord.
God kindly directed my steps to The Master's Seminary where I enrolled in the Fall of 2008. The Master's Seminary has challenged me to take a high view of God and Scripture. It has equipped me with all the right tools to do the ministry I have come to love. Having gone through the M.Div. and Th.M. program, it has helped me to have more time for ministry versus being at my study table. Having the right tools and resources at my fingertips has been the greatest blessing. The rigorous training challenged my second-language English skills. And God provided generous gifts and scholarships. He remained faithful and full of grace. Seminary has been one of my greatest experiences in life so far.
One of the biggest blessings and a great answer to prayer was how the Lord provided scholarships for me to complete both the M.Div. and Th.M. programs. Having spent the last 14 years serving a Christian organization, we did not have the funds to pay for seminary training. I am forever grateful to the Lord for the friends and partners of TMS whose generous giving helped someone like me attain world-class theological training.
After seminary, I returned to the Fiji Bible College from where I graduated many years ago. I have had many ministry opportunities to preach, teach, and reach out to youth in my local church. My desire is to train the next generation of young men for ministry in the region of the South Pacific and to see a solidly conservative church planted in every town in Fiji. I want the gospel to go out to every unreached Hindu village.
Jason Drumm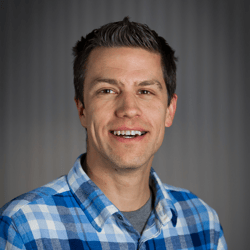 Master of Divinity — 2014
I am not only a pastor because of The Master's Seminary. I am a Christian, too. God has used The Master's Seminary in my life in such a profound way as to shape who I am from the inside out.
After a Master's Seminary graduate named Ken moved to my small Texas town and planted a church, he discovered that one of the greatest ministry hindrances was his inability to get a good night of sleep on Saturday night. Thanks to the young kid who lived down the street from him, who spent Saturday nights on drugs and loud music, Ken regularly spent his Saturday nights lying in bed trying to fall asleep. But he prayed for the salvation of the punk kid keeping him up. Unbeknownst to Ken, the answer to his prayers came through the members of his church. Members of Ken's congregation were co-workers with his neighbor, and they reached out to that punk kid with the truth of the gospel. I was that punk kid, and my eyes were miraculously opened to truth.
Growing up in an unbelieving family, I had become a stereotypical product of the classic MTV mindset and pursued satisfaction in the things of this world. But as I began my new life at Lakeside Bible Church, I was pastored by a TMS graduate and taught the Word of God. I found greater satisfaction in Christ and my life began to change radically. I was married in that same church, had our first kids there, and after a number of years discipling students in the youth ministry, my wife, Claire, and I began to pray seriously about giving up my career as a graphic artist to pursue full-time work in the church as a pastor.
As Ken taught through the pastoral epistles on Sunday mornings, I saw God calling me to be trained in preaching so that I too could invest deeply in the kingdom of God as a local church pastor. Under the guidance and direction of our elders, we moved our family to Los Angeles to attend The Master's Seminary.
The cost of living in Los Angeles is no joke. Attempting to provide for my family while also striving for academic excellence in seminary is a gauntlet that I was grateful to run, but it was not easy. Without the spiritual support of my wife, my church, and my fellow students, I would not have made it. Without the financial support of my home church and the seminary's scholarship program, I would not have made it. But I did make it, because God is faithful, and He used all of those things to provide for my needs according to His glory.
I now serve as a pastor at Canyon Bible Church of Prescott in Prescott, Arizona. Our church was planted four years ago by another TMS graduate, Andrew Gutierrez. A few short months after Andrew planted the church, the elders hired me to assist in shepherding their growing flock. What began as a small church plant just a few years ago is increasing in fruitfulness and in number. We have since purchased land for our own building, added ministries to shepherd our people better, and hired another TMS graduate.
As the college pastor, I have the opportunity to preach the gospel on campus at the local college Bible study. My greatest joy is discipling the young men and women that the Lord brings into our flock. While my primary focus is in our college ministry, I also oversee a number of our other ministries at Canyon including our women's ministry, men's discipleship groups, and our Kids of Canyon ministry. In each of these ministries, there have been immeasurable rewards in seeing the fruit that God is producing in people's lives under our leadership. We are unworthy servants, only doing exactly as we ought.
I came to TMS to be trained as a servant of the Word, and every day in my ministry, it is the Word that does the work. It is because of the training I received at TMS that I am able to wield the Sword of the Spirit with confidence, knowing that everything—from my preaching to my philosophy of ministry—was shaped by the Word of God through professors at The Master's Seminary.
Micah Lugg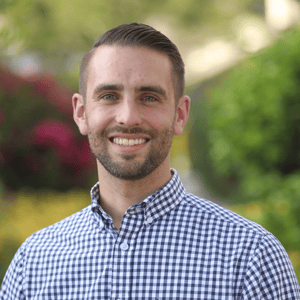 Master of Divinity — 2013
I was born into a family of ministers in western Washington. My maternal grandfather was the pastor of the church until he passed away when I was six years old, and my father was a seminary-trained associate pastor. I saw that ministry was a high priority for my family, and that legacy was one I wanted to continue.
I came to faith at a young age, believing I was a sinner and could only be saved through the sacrifice of Christ. This profession was challenged through my childhood as I came face-to-face with my flesh in new ways. The Lord always faithfully brought me back to the cross, helping me to see that the gospel was for sinners such as I.
In high school, as I began to think about how God would want to use my life and sense what I was gifted in, a preaching ministry rose to the surface. I attended The Master's College, graduating in 2008 with a B.A. in biblical studies. During my college summers, I was able to intern with my youth pastor back home, who is a TMS graduate. I also had the privilege to serve as a resident assistant in the dorms. Both of these experiences confirmed that shepherding people with the Word of God was what I wanted to do. I knew I needed to be trained for shepherding and preaching ministry and TMS was the logical place for me to receive that training.
I currently serve as an associate pastor at Foothill Bible Church in Upland, CA. The church began as the result of a merger in 1993 and has been healthy ever since. The church is committed to making, maturing, and multiplying disciples of Jesus Christ. It has a long history of expositional preaching and raising up people for ministry. I started at this church at the same time I started at TMS. It's a church in which I'm grateful to serve. My wife and I feel like it is our home, and we dearly love the people there. I started in youth ministry, but have since transitioned into adult ministry. Our current teaching pastor, a TMS grad as well, will be retiring at the end of June and moving to Idaho. In December, the congregation voted for me to fill his role after his departure.
The Master's Seminary gave me the theological backbone I needed for ministry. Even though I got a Bible degree in college, it was in seminary that the things I learned in college became a conviction. It was in seminary that the truths of Scripture solidified in my mind and heart. TMS also gave me the blueprints for preaching that exalts God, equips the saints, and evangelizes the lost. It's only when the biblical author's intent is fully explored and the text shapes the sermon that God's Word is accurately preached and God's people genuinely helped. I believe that there is no other institution that better equips expositors than TMS.
As a young man going into seminary, I didn't know how all the finances were going to work, but I knew that I needed to study there. It was such a blessing to know that there were those who were committed to helping us get through! The scholarship I received really lightened the financial load and enabled seminary to become a reality. I'm grateful to God for the gracious support of those giving to make this scholarship possible. May God richly bless them!